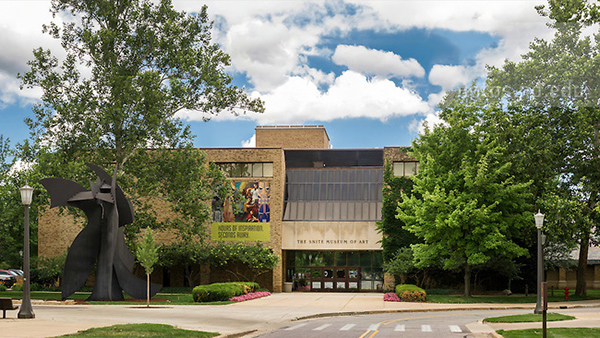 Snite Museum of Art, University of Notre Dame
2018
Joesph Antenucci Becherer, Ph.D. appointed Director
Joseph Antenucci Becherer will be the new Director of the Snite Museum of Art at the University of Notre Dame in Indiana.
Becherer, the founding director and curator of the sculpture program at Frederik Meijer Gardens & Sculpture Park in Grand Rapids, Michigan joined Meijer Gardens in 1999, and became its chief curator and vice president of sculpture and horticulture, collections and exhibitions in 2009. He also is the Lena Meijer Professor in the History of Art at Aquinas College, where he teaches courses in Renaissance, Baroque and Contemporary art.
Becherer earned bachelor's and master's of fine arts degrees at Ohio University, which in 2012 awarded him its Medal of Merit. He received his doctoral degree from Indiana University in 2001.
At Notre Dame, where Becherer will start work on January 1, 2019, he will lead a staff of 16 responsible for exhibition development and educational programs that serve Notre Dame students and faculty as well as thousands of primary and secondary school students who visit the Snite Museum of Art annually. He also will play a major role in helping design and open the University's new Raclin Murphy Museum of Art at Notre Dame, scheduled to open in 2021.
A scholar of modern and contemporary sculpture, Becherer has authored numerous books, catalogues and articles, and curated many major exhibitions. As curator at Meijer Gardens, he has overseen the development of one the foremost collections of modern and contemporary sculpture. In 2015, he debuted a new Japanese Garden designed by Hoichi Kurisu with the permanent installations by Jenny Holzer, Zhang Huan, Anish Kapoor, Masuyuki Koorida, David Nash and Giuseppe Penone.
Most recently, Becherer curated a monumental exhibition with Ai WeiWei and oversaw legacy gifts of George Segal and Beverly Pepper - including her entire repertoire of prints and drawings.
Becherer has served on numerous civic art advisory committees, including those which commissioned major public works by Dennis Oppenheim and Maya Lin and acquisition of a major work by Robert Indiana. He chaired the national committee to commission a sculpture of President Gerald R. Ford for the rotunda of the U.S. Capitol, dedicated in 2011.
"We are thrilled to have someone of Joe's artistic vision, talents and operational experience joining our team at Notre Dame," said Maura Ryan, vice president and associate provost for faculty affairs. "We are confident he will continue and enhance the museum's role in the University's vibrant arts district that is taking shape on the southern edge of our campus and includes the Charles B. Hayes Family Sculpture Park, which opened in 2017."
Becherer said, "Following in the great tradition that is the Snite Museum of Art, I look forward to working with everyone to create in the new Raclin Murphy Museum of Art one of the nation's pre-eminent and most innovative university art museums."